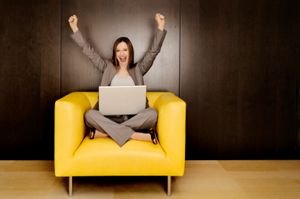 In this section you'll find information regarding the people, culture, and physical plant of our company. If you want to know where we're located, our hours of business, or simply what makes us tick, just follow the provided links for more information.
It's extremely important to us that our clients know whom they're doing business with. Once you take the time to find out what we're all about, we're confident you'll like what you see.
History in the Making
McQuick Printing was unofficially born as a satellite shop for a much larger entity in 1994. With hard work and a shrewd business sense, William McGough was able to purchase the shop and began building a business that would see an annual growth rate that averaged an astounding 24%!
Since then, McQuick Printing has become one of the most successful commercial printers in the Southeast region. Our staff includes journeyman level artisans in every department. With combined experience of several hundred years in the industry, our staff knows the meaning of quality product and especially customer service. With that kind of experience, the only way to go was up.
In March of 2003, McQuick expanded its operations into the city of Tuskegee when it acquired a small shop there. McQuick Printing in Tuskegee offers services for walk in customers as well as long established clients. Larger jobs are produced in the Montgomery plant.
Two years later, McQuick opened its third shop in the city of Auburn. Practically in the heart of the Plains, our Auburn shop offers services to students and faculty alike at Auburn University. We also offer our services to the many businesses that surround the University.
Then in 2014, McQuick Printing merged with Southeastern Business Printers, also located in Montgomery, Alabama with an additional location in the city of Wetumpka, Alabama. This became our fourth location in central Alabama serving the businesses and individuals in and around the river region. Walk-in customers are always welcome!
All of our locations offer quality digital printing for quick-turn jobs for our clients. If you have something that you need the same day, or even a few hours later, we can help you get it done fast! Tuskegee, Auburn and Wetumpka offer many services for our walk-in customers including copies and prints, digital printing and scanning services as well as faxing services. And as an added bonus, all of our locations offer design services as well. When you bring your project to McQuick Printing, we can help you design from scratch to finished product.